The Introduction And Application Of Roller Chain
The Introduction And Application Of Roller Chain
Roller chains
usually refer to precision roller chains for short-pitch transmissions, which are the most widely used and have the most output. The roller chain is divided into single row and multi-row, which is suitable for low power transmission. The basic parameter of the roller chain is the chain pitch p, which is equal to the number of the roller chain multiplied by 25.4/16 (mm). There are two types of suffixes, A and B, in the chain number, indicating two series, which complement each other. For example, the chain number is 12, and the pitch of the roller chain is p=12×25.4/16=19.05mm.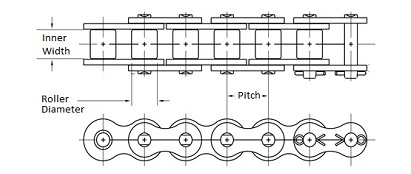 The composition of the roller chain
As shown in the picture , the roller chain consists of inner plate , outer plate , pin , bush, roller,cotter pin,connecting pin . The inner chain plate and the sleeve, the outer chain plate and the pin shaft are all interference fit; the roller and the sleeve, the sleeve and the pin shaft are all clearance fit. When working, the inner and outer chain links can be relatively deflected, the sleeve can freely rotate around the pin shaft, and the rollers are sleeved on the sleeve to reduce the wear between the chain and the sprocket. In order to reduce the weight and make the strength of each section equal, the inner and outer chain plates are often made into "8" shape. Each part of the chain is made of carbon steel or alloy steel. Usually heat treated to achieve a certain strength and hardness.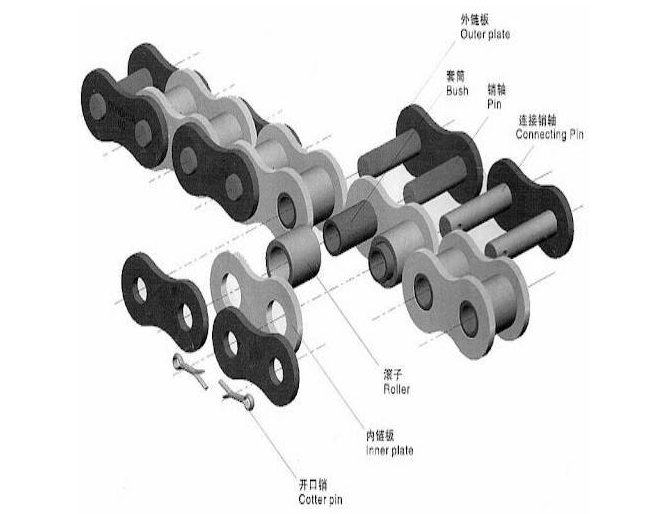 The application of roller chain
A roller chain is a type of chain used to transmit mechanical power and is a type of chain drive widely used in household, industrial and agricultural machinery, including conveyors, plotters, printing presses, automobiles, motorcycles, and bicycles. It is linked together by a series of short cylindrical rollers, driven by a gear called a sprocket, and is a simple, reliable and efficient power transmission device.
Kimer Zheng
Hangzhou YangQi Imp&Exp Co.,Ltd
杭州阳奇进出口有限公司
Room 1310,Taotiandi Buliding 2,Jianggan District,Hangzhou City ,Zhejiang
Sales2@Chinatransmissions.Com
Mob/Whatsapp/wechat:+008618258831202
Www.Chinatransmissions.Com