TheFCL coupling conforms to the Japanese national standard JISB1452. The FCL type elastic sleeve pin coupling uses a pin with an elastic sleeve (rubber material) at one end, and is installed in the flange holes of the two halves of the coupling to achieve two The coupling of the half-coupling.
Features Of FCL Coupling
The vibration absorption is good, so that the motion of the active shaft can be smoothly transmitted to the passive shaft. There is no axial thrust in the transmission.
Easy to assemble and disassemble, as long as the coupling bolt is removed, the connection between the active and passive can be separated.
If the relative displacement of the two shafts can be kept within the specified range after installation and adjustment, the coupling will have satisfactory performance and long working life.
Widely used in various medium and small power transmission shaft systems driven by electric motors with small loads, such as reducers, transmissions, pumps, printing and dyeing machines, hoists, cranes, compressors, conveyors, textile machines, hoists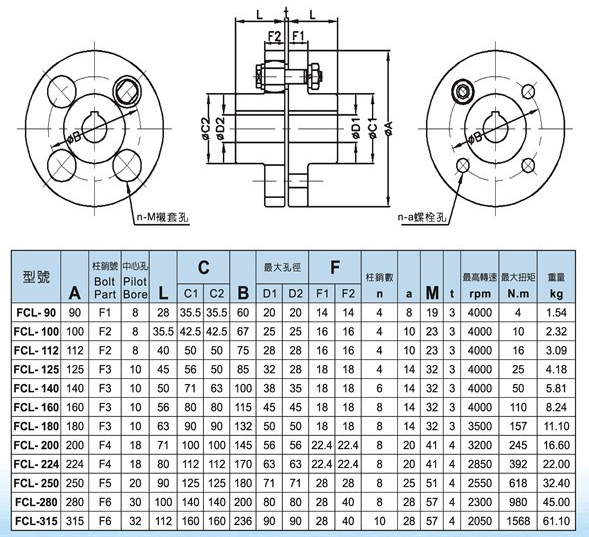 Kimer Zheng
Hangzhou YangQi Imp&Exp Co.,Ltd
杭州阳奇进出口有限公司
Room 1310,Taotiandi Buliding 2,Jianggan District,Hangzhou City ,Zhejiang
Sales2@Chinatransmissions.Com
Mob/Whatsapp/wechat:+008618258831202
Www.Chinatransmissions.Com