The Features Of NM Coupling
NM coupling
, also called male claw coupling. The structure is similar to the elastic plum coupling, using specially designed synthetic rubber, with two similar bodies of cast iron material, rubber type coupling NM series. It is mainly a coupling with two cast iron (FC25 material) bodies plus rubber, rubber The type coupling NM series is cast iron (FC25), and the rubber in the middle is a buffer pad. The coupling formed is the connecting part between the pump and the motor, and is often used in general machinery.
The Features Of NM Coupling
1. Economical and practical, quiet and stable operation, easy to assemble and maintain;
2. It can provide high torque and intermittent operation for equipment;
NM elastic coupling elastic rubber
1. Made of high-grade cast steel;
2. The rubber material is NBR; BBR features: excellent oil resistance, the performance is comparable to TM; ACM and fluororubber.
3. The outer diameters are: 50mm, 67mm, 82mm, 97mm, 112mm, 128mm, 148mm, 168mm, 194mm, 214mm;
4. Working temperature: -40~+120 degrees.
The characteristics of NM elastic coupling synthetic rubber
1. Moderate elasticity, resistance to resistance, oil resistance, acid resistance and alkali resistance. Good abrasion resistance; heat resistance; aging resistance and air tightness. Basic acid-base resistance
2. The polyurethane plastic of NM elastic coupling is an elastic element, which has the advantages of buffering, shock absorption, wear resistance, convenient disassembly and assembly, etc. The working temperature is -35~+80 degrees. Interchangeable with West German ROTEX couplings. The coupling cushion is limited by the convex claw block, which can avoid the internal deformation caused by impact and the external deformation caused by centrifugal force; the large concave surface of the convex claw makes the surface pressure on the involute tooth very small, even if the tooth is overloaded , the teeth will still not wear or deform.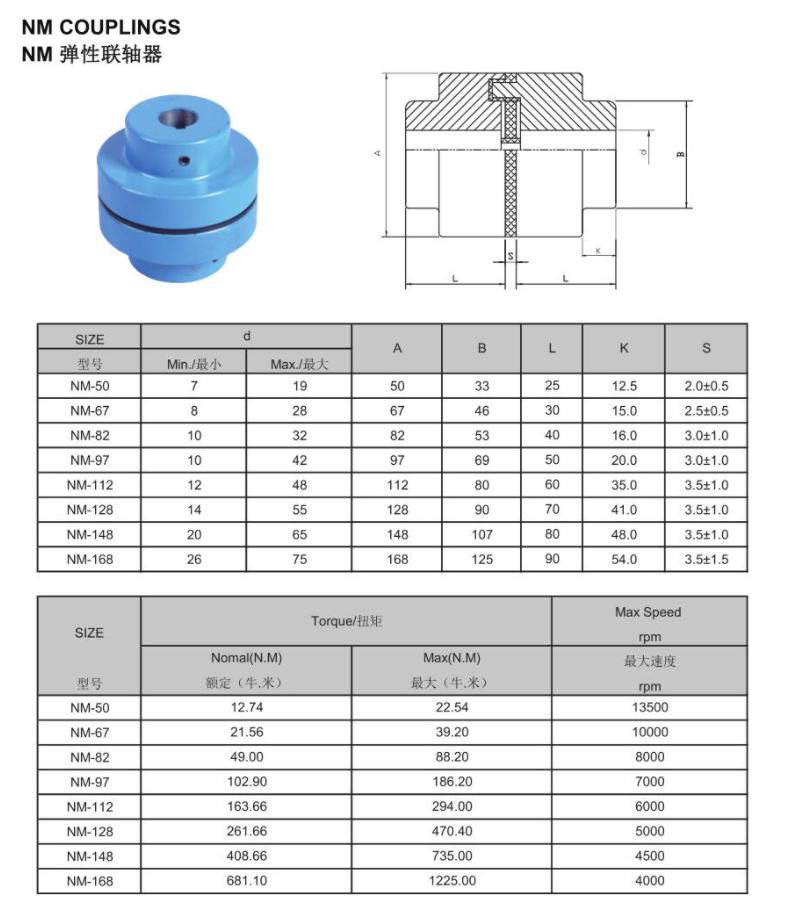 Kimer Zheng
Hangzhou YangQi Imp&Exp Co.,Ltd
杭州阳奇进出口有限公司
Room 1310,Taotiandi Buliding 2,Jianggan District,Hangzhou City ,Zhejiang
Sales2@Chinatransmissions.Com
Mob/Whatsapp/wechat:+008618258831202
Www.Chinatransmissions.Com