The L-shaped
jaw coupling
is similar to the plum-blossom coupling. It is cast by powder metallurgy and has the characteristics of economy and practicality, easy disassembly, light weight, high torque and wear resistance.
The Advantage Of Jaw Coupling
1. L-type three-jaw coupling (p Compounding and technology of various types of products.
2. The strength of the powder metallurgy coupling is strengthened in the part where the teeth and the main body are connected, so that the teeth of the coupling are not easy to break, more durable and have a longer service life. Phosphating treatment is adopted in the later stage, and the appearance is beautiful.
3. The rubber pad of the L-type three-jaw coupling is made of NBR (butadiene rubber), which is mainly produced by low-temperature emulsion polymerization. It has excellent oil resistance, high wear resistance, good heat resistance and strong adhesion. and other characteristics.
The Application Of Jaw Coupling
L-type coupling application machinery field: hydraulic pump, centrifugal pump, small generator, blower, fan, ventilator, belt conveyor. Screw conveyor, sheet bending machine, woodworking machinery, grinding machine, textile machine, similar machine , cutting machine. hoist, generator, cement mixer. cable car, cable hoist, centrifuge, excavator, piston pump, baler, paper machine, compressor, screw pump shearing machine, forging press, stone crusher, piston Type compressor, Chuihua rolling machine, electric welding machine, Gongsu crusher.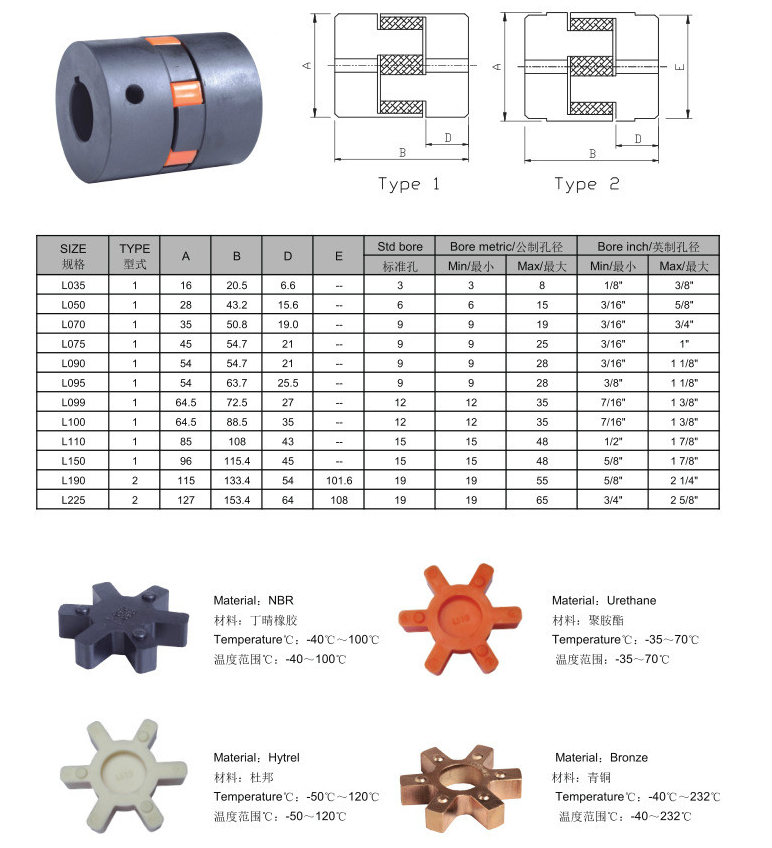 Kimer Zheng
Hangzhou YangQi Imp&Exp Co.,Ltd
杭州阳奇进出口有限公司
Room 1310,Taotiandi Buliding 2,Jianggan District,Hangzhou City ,Zhejiang
Sales2@Chinatransmissions.Com
Mob/Whatsapp/wechat:+008618258831202
Www.Chinatransmissions.Com