Stainless Steel Sprockets
Stainless Steel Sprockets
We Manufacture full line of ANSI standard,European Standard 304-grade stainless steel sprockets both as A-Plate style,B-Hub style and C-Hub style. We can supply sprockets with finished bores ,Pilot bore .Typically our sprockets are manufactured out of 304 grade stainless steel.
Stainless steel sprocket Stainless Steel Sprocket, commonly used materials are 201, 304 and other stainless steel. Stainless steel sprocket model: including non-standard sprockets (customized according to customer drawings), standard sprockets (American standard and metric)
The tooth profile of the sprocket is similar to that of the gear, but its tooth profile is not a conjugate tooth profile, and its tooth profile has a lot of flexibility. The sprocket tooth profile should have the following properties: ensure the chain can be smoothly and freely meshed in and out; minimize the impact and contact stress when the chain link meshes with the sprocket; have a larger accommodating chain pitch that increases due to wear ability; ease of processing. Commonly used tooth shapes are: straight line-arc tooth shape, two-arc tooth shape. The tooth profile on both sides of the shaft surface of the roller chain sprocket is arc or straight line, so as to facilitate the meshing and meshing of the chain link.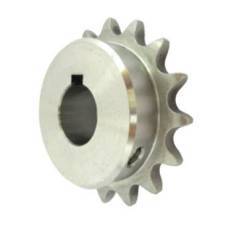 Kimer Zheng
Hangzhou YangQi Imp&Exp Co.,Ltd
杭州阳奇进出口有限公司
Room 1310,Taotiandi Buliding 2,Jianggan District,Hangzhou City ,Zhejiang
Sales2@Chinatransmissions.Com
Mob/Whatsapp/wechat:+008618258831202
Www.Chinatransmissions.Com