The Type Of Taper Bushing
The Type Of Taper Bushing
Bushings are utilized in a broad range of industrial and agricultural applications such as; sprockets, pulleys, and sheaves. The basic purpose of a bushing is to mate or couple a component to a shaft. Several reasons why a bushing is utilized instead of a bored-to-size hub is due to limited space restraints, quick replacement of one or both of the components, and a broader range of in-stock bore sizes for specific parts. We stock an abundance of standard inch and metric bore size taper-lock bushings and QD bushings, as well as stainless steel bushings. We can also produce custom bushings in a broad range of material options.
QD Bushing
QD bushings are utilized throughout the industrial power transmission and agricultural industry for various sprockets, sheaves, pulleys, and synchronized drives. They are designed for easy installation and easy un-installation; they are also commonly referred to as quick-disconnect bushings. QD bushings are capable of conventional mounting with the flange outboard and reverse mounting to where the flange is inboard and utilize a single split that extends through the entire bushing length. Our QD bushings interchange with other brands and are made from high-grade steel that has been precision machined for perfect application fitment. QD bushings' benefits over different styles include; ease of install/ uninstall, superior holding power, and extreme strengths. We stock all of the standard sizes of QD bushings and supply custom QD bushings upon request, including stainless steel QD bushings. QD bushings are found in some of the most rugged applications worldwide;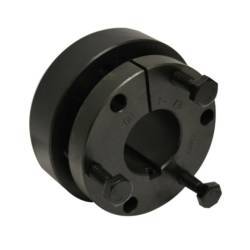 Split taper bushings
Split taper bushings are utilized in a broad range of sheaves, conveyor pulleys, and sprockets. Our high-quality split taper bushings are manufactured from high-grade steel or cast and interchange with any other brand out there, designed as a flanged bushing with a tapered barrel attached that contains one slit on each side. Split taper bushings are amongst the most common bushings utilized due to their high integral strength, simplicity of install and uninstall, and high holding power for successfully coupling a shaft onto a drive or idler component. We stock split taper bushings ranging from the G-series to W2-series and in inch and metric bore sizes that range from 0.375" up to 7.438".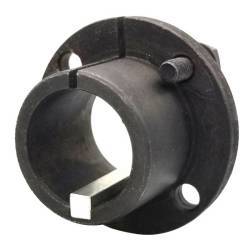 Taper lock bushings
Taper lock bushings are manufactured from steel or cast material and are designed for keeping the overall length (including the hub) narrow on sprockets, sheaves, and pulleys. Their highly effective design provides a narrow profile while also creating a tight grip/ coupling action for securing components to specific shaft sizes. Taper lock bushings are designed with a split through the bushing and a gradual 8° taper angle that creates the equivalent of a string fit when installed into a component. Our premium taper lock bushings are precision manufactured in accordance with American Standard and ISO dimensions so they interchange with other brands, we stock all of the standard taper lock bushing types in metric and inch bore sizes.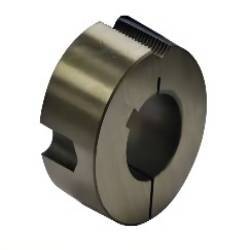 Kimer Zheng
Hangzhou YangQi Imp&Exp Co.,Ltd
杭州阳奇进出口有限公司
Room 1310,Taotiandi Buliding 2,Jianggan District,Hangzhou City ,Zhejiang
Sales2@Chinatransmissions.Com
Mob/Whatsapp/wechat:+8618258831202
Www.Chinatransmissions.Com