The Advantage Of Conveyor Chain
The Advantage Of Conveyor Chain
Conveyor chain
is mainly used for conveying goods and materials. Compared with transmission chain, the chain speed is slow and the load is large. Therefore, it is hoped that it has the following performance characteristics:
1. Light weight and high strength, the weight of the conveyor chain is usually proportional to the load borne by the chain. A heavy chain will increase the tension in the chain, which will limit the conveying capacity and become uneconomical;
2. Good wear resistance. Generally, the number of teeth of the sprocket is small when the conveyor chain is working, and the turning angle between the relative chain links is large. The chain wears and elongs quickly, which limits the service life;
3. The resistance of sliding or rolling should be small. The conveyor chain mostly slides on the track or rolls forward with the roller support, the sliding or rolling resistance is small, which can improve the efficiency and life span;
4. Strong impact resistance. Conveyors with uneven load or conveyors running at high speed will produce impact loads in quite a few cases. The conveyor chain should have impact resistance and toughness.
5.The ability to withstand special environments such as abrasion resistance, high temperature resistance, etc.
6.Good reliability and maintainability
7.For this reason, when designing the conveyor chain, the structure must be reasonable, and the second is the material suspension must be appropriate, so as to ensure the function and service life of the conveyor chain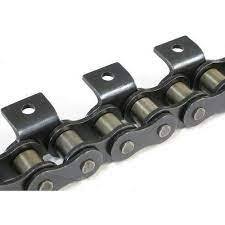 Contact Us-Welcome To Send Us Inquiries!!!
Kimer Zheng
Hangzhou YangQi Imp&Exp Co.,Ltd
杭州阳奇进出口有限公司
Room 1310,Taotiandi Buliding 2,Jianggan District,Hangzhou City ,Zhejiang
Sales2@Chinatransmissions.Com
Mob/Whatsapp/wechat:+8618258831202
Www.Chinatransmissions.Com