Chain transmission is a transmission method in which the movement and power of a driving sprocket with a special tooth profile is transmitted to a driven sprocket with a special tooth profile through a chain. The chain drive is a meshing drive, and the average transmission ratio is accurate. It is a mechanical transmission that uses the meshing of the chain and the sprocket teeth to transmit power and movement.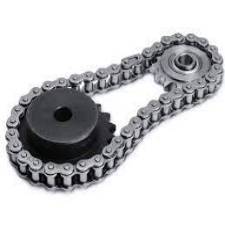 Chain
The chain length is expressed by the number of chain links. The number of chain links is best to be an even number, so that when the chain is connected in a ring shape, the outer chain plate and the inner chain plate are connected, and the joint can be locked with a spring clip or a split pin. If the number of chain links is odd, transition chain links are required. When the chain is under tension, the transition link has to bear additional bending load, which should generally be avoided. The toothed chain is made up of many punched toothed chain plates connected by hinges. In order to avoid chain loss when meshing, the chain should have a guide plate (divided into inner guide type and outer guide type).
Sprocket
Both sides of the tooth profile of the sprocket shaft surface are arc-shaped to facilitate the entry and exit of the chain links. When the tooth profile is processed with a standard tool, it is not necessary to draw the end tooth profile on the sprocket work diagram, but the sprocket shaft tooth profile must be drawn in order to turn the sprocket bad. See the relevant design manual for the specific dimensions of the shaft tooth profile. The sprocket teeth should have sufficient contact strength and wear resistance, so the tooth surface is mostly heat-treated. The small sprocket has more meshing times than the large sprocket, and the impact force is also greater, so the material used should generally be better than that of the large sprocket.
Kimer Zheng
Hangzhou YangQi Imp&Exp Co.,Ltd
杭州阳奇进出口有限公司
Room 1310,Taotiandi Buliding 2,Jianggan District,Hangzhou City ,Zhejiang
Sales2@Chinatransmissions.Com
Mob/Whatsapp/wechat:+8618258831202
Www.Chinatransmissions.Com