The Introduction Of Different Sprockets
The Introduction Of Different Sprockets
The
sprocket
functions as a timing belt and is an important part of the engine valve system. It is connected with the crankshaft and matched with a certain transmission ratio to ensure the accuracy of the intake and exhaust time. The function of the sprocket is the ignition sequence (time) of the piston stroke (up and down movement) of the valve opening and closing when the engine is running.
Stock Bore Sprocket
The process hole sprocket is a process used in processing and production to facilitate processing, but does not affect the use. This hole is optional. But without this hole, it will be very difficult to process in actual production.
Craft hole sprocket includes A series of flat plates and B series with tie. A series and B series have the difference of single row, double row and three row.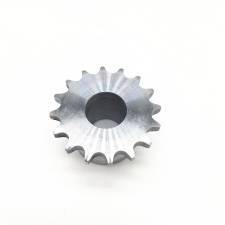 Finished Bore Sprocket
To complete the hole sprocket is to add an inner hole, keyway, and screw hole on the basis of the craft hole. The manufacturing process is more complicated than the process hole.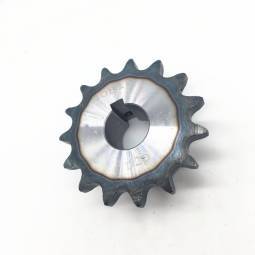 Stainless Steel Sprocket
Stainless Steel Sprocket, commonly used materials are 201, 304 and other stainless steel.  Stainless steel sprocket model: including non-standard sprocket (customized according to customer drawings), standard sprocket (American standard and metric).
The size of the sprocket is determined according to the number of diameter pitches and groove teeth. There are many grades of stainless steel such as sus304.201. The sprocket is selected according to the installation size, speed ratio, torque, and equipment use.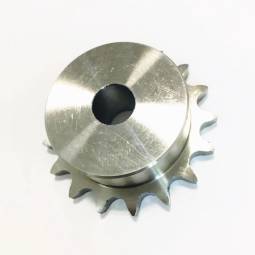 Taper Bore Sprocket
Taper bore sprocket finished with induction hardened teeth, this treatment gives a longer lasting life to sprockets.Taper bore sprockets are suitable for corrosive environments, including high temperature and moist conditions found in many food process and packaging operations.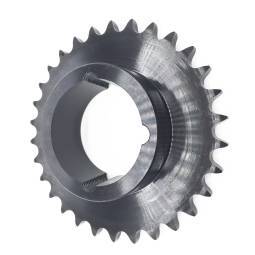 Idler Sprocket
Our idler sprockets are typically in stock with ball bearings inserted. We can also make bronze bushed, nylatron and roller bearing idler sprockets upon request with fast turnaround.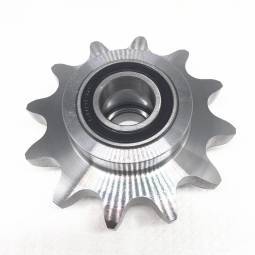 Double Sprocket With Two Single Chains
Double single sprockets are designed to run two single-strand type roller chains, this is where the name "double single" came from.Our double single sprockets are manufactured with hardened teeth and have a black oxide coating for superior performance and a slight corrosion resistance.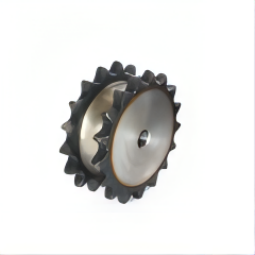 Double Pitch Sprocket
Double pitch roller chains typically require a "special" double pitch sprocket. Because of this, we have a full line of specialty double pitch sprockets for C2040 - C2080H and C2042 - C2082H size double pitch roller chains in stock. All of these sprockets feature black oxide coating, superior steel grade and hardened teeth.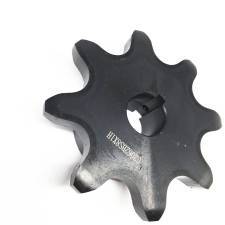 Kimer Zheng
Hangzhou YangQi Imp&Exp Co.,Ltd
杭州阳奇进出口有限公司
Room 1310,Taotiandi Buliding 2,Jianggan District,Hangzhou City ,Zhejiang
Sales2@Chinatransmissions.Com
Mob/Whatsapp/wechat:+8618258831202
Www.Chinatransmissions.Com