All About Chain Couplings - Attributes and Specifications
All About Chain Couplings - Attributes and Specifications
Chain couplings are three-piece flexible shaft couplings that are used to connect driving and driven shafts in mechanical power transmission assemblies. Flexible shaft couplings are used to counter the inevitable misalignment that occurs between connected shafts. Other coupling styles included Oldham, Schmidt, gear, disc, bellows, grid, and beam, about which more may be found in our Couplings Buyers Guide.
Chain couplings consist of identical left and right-hand sprockets that are connected through duplex metal roller chains or acetal plastic chains. Roller chain couplings often incorporate covers similar to those used on other couplings that hold lubricant in place. Acetal plastic chain couplings require no lubrication and thus dispense with covers. Plastic chains transfer less torque than roller chains but are useful in environments where grease is considered a contaminant, where grease can attract dirt and debris, or where atmospheric corrosion is a problem. Chains are connected with pins and master links to create continuous loops. The chain links remain in contact with the sprocket teeth around the entire perimeter of the sprockets. Side clearance between chain and teeth allow for misalignment to exist between the coupled shafts.
Shaft attachment is usually by way of set screws and keyways or via tapered, locking bushings. To function correctly, the coupling must maintain some clearance between the faces of the sprockets. Shear pin couplings are available for torque-limiting applications.
Another variant of the chain coupling uses silent chain in place of roller chain. Included in this design is an option for straight split sprockets or diagonally split sprockets. This coupling is said to have higher torque transfer capacity than standard roller chain couplings.
Chain couplings are an economical coupling method that has been in use for many years. Other mechanically flexible couplings have overtaken some market share, but chain couplings remain a straightforward solution to certain coupling applications.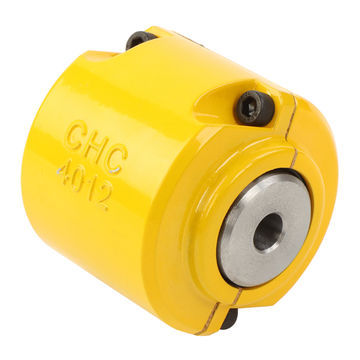 Chain couplings are usually employed in low to moderate speed, high torque applications and are not often found in higher speed applications where grid, gear, and other more sophisticated couplings predominate. They are considered to be fairly rugged and easy to install. Typical applications include line-shaft couplings on live-roller conveyors. Here, the plastic chain provides a lubrication-free coupling solution that requires neither covers for lubricant retention nor coupling guards because the smooth outer surface of the chain presents no catch hazards.

For standard power transmission applications, chain couplings can be purchased in a range of shaft sizes and torque capacities, with typical bore diameters up to 4-1/2 in. and torque capacities up to 220,000 in.-lbs. available. Allowable angular misalignment is usually a maximum of 1° and parallel misalignment is usually limited to 2% of the chain pitch. Sometimes these allowances are decreased for installations that operate at higher speeds.
Sprockets are sized in two-tooth intervals to correspond to the roller chain links, with pitches based on ANSI standards (i.e., #40, #60, #80). Ordinarily, the manufacturer will select the appropriate sprocket size and pitch for the given torque requirements, but knowing the pitch of the sprocket makes it possible to select an appropriate replacement chain.
Specifying a chain coupling requires knowing the required bore, calculating the transmitted torque, then applying a multiplier supplied by the manufacturer that rates the severity of the service, usually by machine type. Manufacturers often have on-line calculators to help specifiers in selecting couplings.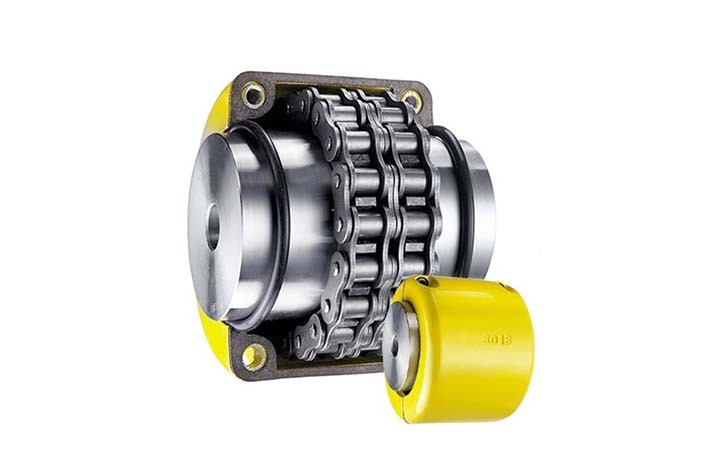 Chain couplings tend to run with more noise than other coupling styles, especially those using metal roller chain. Plastic chain can run quieter than metal chain. Silent, or inverted, chain couplings run quieter than standard metal chain couplings, too.
Chain couplings are also less adept at handling shock loads than other couplings, particularly those that employ elastomeric elements such as grid couplings. Manufacturers will generally recommend stepping up to the next size if shock conditions are expected. Chain couplings have a low cost of operation.
Misalignment occurs along two planes, parallel and angular, and it usually manifests as some combination of the two. Angular misalignment is defined as two connecting shafts whose axes intersect at an angle less than 180°. Parallel misalignment is defined as shaft axes running parallel to each other but not collinearly. While couplings are intended to deal with misalignment, they, along with the machines they connect, operate better and longer if any misalignment is kept to a minimum.
Procedures for aligning machine trains vary from manual rule-and-feeler-gage techniques to high-end laser-based systems. Alignment services are a common offering of many rotating-equipment service organizations.
Contact Us-Welcome To Send Us Inquiries!!!
Taylor Chan
Hangzhou YangQi Imp&Exp Co.,Ltd
杭州阳奇进出口有限公司
Room 1310,Taotiandi Buliding 2,Jianggan District,Hangzhou City ,Zhejiang
sales1@chinatransmissions.com
Mob/Whatsapp:+8618857038600
Wechat:lemonchen77
www.chinatransmissions.com