The introduction of KC Coupling
The introduction of KC Coupling
KC series chain couplings use a common chain to fix two half couplings with sprocket teeth with the same number of teeth. The main difference between chain couplings of different structure types is that they use different chains, which are common There are double-row roller chain couplings, single-row roller chain couplings, toothed chain couplings, nylon chain couplings, etc. The performance of double-row roller chain couplings is better than that of other structural types of couplings. In order to be widely adopted, China has also formulated it as a standard.
The sprocket coupling has a simple structure (composed of four pieces), light weight, small size, convenient assembly and disassembly, no need to move the connected two shafts during disassembly, and can compensate for the displacement of the two shafts in a small amount. It does not require high installation accuracy. Work, longer life, lower cost and other advantages.
KC rolling chain coupling can be used for shafting transmission of textile, agricultural machinery, lifting and transportation, engineering, mining, light industry, chemical industry and other machinery. It is suitable for high temperature, humidity and dust. Severe impact load and torsional vibration are not suitable for high speed and axial force transmission. The chain coupling should work under the conditions of good lubrication and protective cover.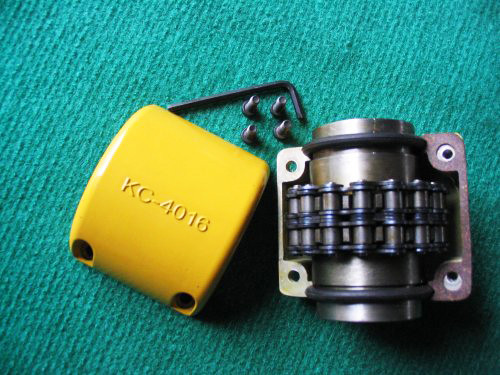 Kimer Zheng
Hangzhou YangQi Imp&Exp Co.,Ltd
杭州阳奇进出口有限公司
Room 1310,Taotiandi Buliding 2,Jianggan District,Hangzhou City ,Zhejiang
Sales2@Chinatransmissions.Com
Mob/Whatsapp:+8618258831202
Wechat:18258831202
Www.Chinatransmissions.Com