What material is generally selected for belt pulley
Timing belt pulleys
are parts of disc hubs, which are generally relatively large in size. The manufacturing process is generally based on casting and forging.
Generally, the larger size is designed to use the casting method, the material is generally cast iron (good casting performance), and cast steel is rarely used (the casting performance of steel is not good); generally the smaller size can be designed for forging, the material For steel. Metric timing belt pulleys are mainly used for long-distance transmission of power, such as the power output of small diesel engines, agricultural vehicles, tractors, automobiles, mining machinery, machining equipment, textile machinery, packaging machinery, lathes, forging machines, and some small horsepower motorcycles. Transmission, power transmission of agricultural machinery, air compressor, reducer, reducer, generator, gin, etc.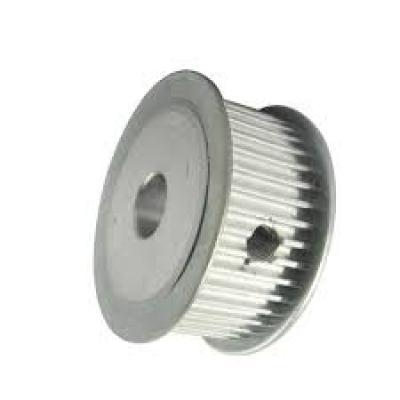 Material requirements
1. The belt pulley used for the fan is made of gray cast iron HT200, HT250, etc. (however, steel parts, copper parts, aluminum parts, etc. can also be used according to customer requirements).
2. The belt pulley shall meet the following requirements: light weight, uniform mass distribution, elimination of internal stress during manufacturing, and static balance correction shall be carried out for the belt pulley.
Installation steps
1. Check the timing belt pulley groove to ensure that there are no scars or sharp edges, and all dimensions meet the standards;
2. Clean the surfaces of all components, such as hub holes, taper sleeves, bolt holes, etc. Fit the cone into the timing belt pulley so that all screw holes are aligned.
3. Apply oil on the screw (TB 1008-tb 3030) and thread (TB 3525-tb 5050) and screw it into the mounting hole, but do not tighten it temporarily.
4. Clean the surface of the transmission shaft, push the belt pulley with cone sleeve to the predetermined position on the shaft, and check whether the triangular pulley is aligned.
5. When using the keyway, it must first be inserted into the shaft hub, and there must be a certain tolerance between the keyway and the hole hub.
6. Use a hexagonal wrench conforming to din911 standard to tighten the bolts of each mounting hole alternately and gradually until the torque shown in the table below is reached.
7. After a short period of operation (0.5 to 1 hour), check the tightening torque of the bolts and retighten them if necessary.
8. In order to prevent foreign matters from invading, fill the connecting hole of the hole with grease.