What are Couplings? | Types of Couplings and their application
What are Couplings? | Types of Couplings and their application
Couplings – the name itself suggests that it couples something(not lovers 😛 ). You might have an idea or two about couplings but today here in this article, we will know about them in detail. We will be discussing what are couplings, what are the types of couplings & their applications. So let's begin.
What are Couplings?
In simple words, couplings are mechanical devices used to transmit power/torque from one shaft to another shaft.
Why do we need couplings?
Power can be transmitted by means of various gear arrangements or drives only if the shafts are parallel.
Couplings are used when the shafts are in a straight line and are to be connected end to end to transmit power.
General application OR Uses-

To transmit power from driving shaft to driven shaft.
To connect or couple 2 components which are manufactured separately eg. output motor shaft and generator.
To introduce extra flexibility while transmitting power in case of space restrictions.
To introduce protection against overloads.
To reduce the transmission of shock loads from one shaft to another by using flexible couplings.
Types of Couplings-
Here are the different types of couplings which are most widely used in industries and machines-
1.Flange coupling
Flange coupling is also easy to manufacture coupling and is similar to sleeve coupling. Here, there are flanges on either side of the 2 sleeves. Both the flanges consist of an equal number of threaded holes for bolting purposes. The flanges are then joined together with bolts and nuts. A key section is also provided on the hub and shafts so that there is no slipping condition.
A tapered key is used here. This ensures that the hub doesn't loosen up or move backward and stays attached to the shafts.
Application-
Flange couplings are used for medium & heavy-duty industrial applications.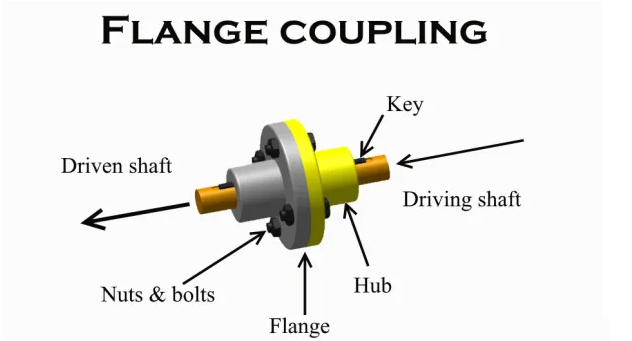 2.Bush Pin type flexible coupling
You could say that this coupling is an upgraded version of flange coupling. The only difference between them is the usage of rubber bushings. Slightly thick rubber bushings are designed so that the studs or bolts perfectly fit inside it and bushing fits perfectly inside the holes provided.
The major advantage of using this coupling is that it can be used for slightly misaligned shafts. The rubber bushings add a certain amount of flexibility to the coupling which also helps to absorb shocks and vibrations.
Application-
Bush pin-type couplings are used where there is a little amount of angular, parallel or axial misalignment.
They are used in medium-duty applications in electric motors & machines.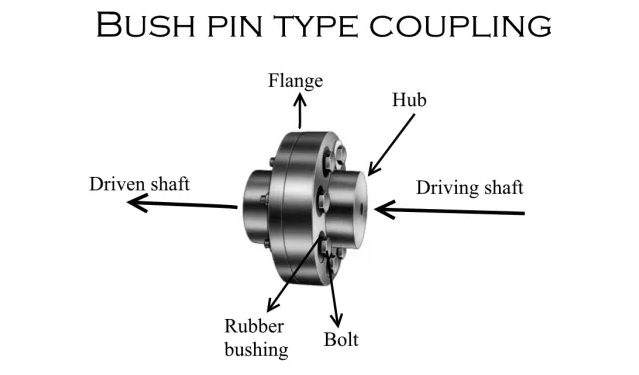 3.Gear coupling
The gear coupling is another modified version of the flange coupling. In gear coupling, the flange and hub are different parts assembled together instead of a single part as in flange coupling.
The hubs are externally splined but they are so thick and deep that you can regard them as gear teeth. Also the flanges have internal teeth. The gear ratio is 1:1 and are meshed together. The single joint gear couplings are limited to lower angular misalignments.
Application-
Gear couplings are used for heavy-duty applications where the requirement of torque transmission is higher.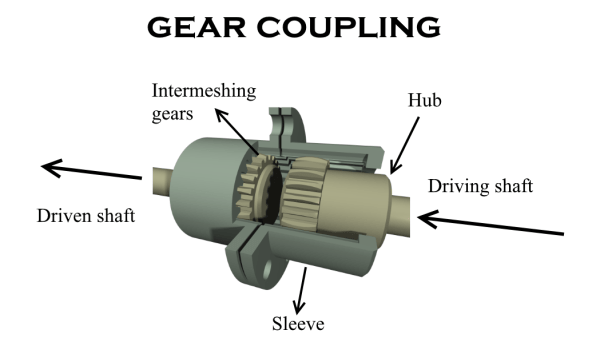 4.Chain coupling
Chain couplings consist of identical left and right-hand sprockets that are connected through duplex metal roller chains or acetal plastic chains. Roller chain couplings often incorporate covers similar to those used on other couplings that hold lubricant in place. Acetal plastic chain couplings require no lubrication and thus dispense with covers. Plastic chains transfer less torque than roller chains but are useful in environments where grease is considered a contaminant, where grease can attract dirt and debris, or where atmospheric corrosion is a problem. Chains are connected with pins and master links to create continuous loops. The chain links remain in contact with the sprocket teeth around the entire perimeter of the sprockets. Side clearance between chain and teeth allow for misalignment to exist between the coupled shafts.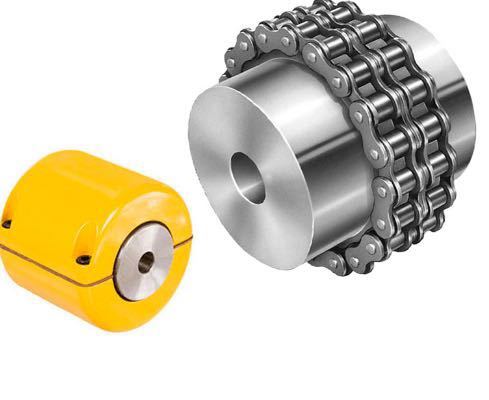 Please contact me if you have any needs:
Hangzhou YangQi Imp&Exp co.,Ltd
Export Dep of Shengzhou Tomorrow Machinery Co.,Ltd
No.327,North Zhenxing Road, Sanjie Town, Shengzhou City, Zhejiang, China. 312452
Mob/WhatsApp:+8615990115267 Wechat: 0086-13588567269
www.chinatransmissions.com
julia@chinatransmissions.com