Biden elected as the 46th President of the United States
Biden is elected 46th President of the United States
Joe Robinette Biden defeated Donald Trump and was elected the 46th President of the United States. He promised to unite and heal this country facing a worsening epidemic, faltering economy and severe political opposition.
The Associated Press, CNN, and NBC all show that Biden won Pennsylvania and obtained more electoral votes than the 270 required to be elected president.
Biden issued a statement saying, "I feel humble and honored for the American people's trust in me and the election of me and Harris as president and vice president. Faced with unprecedented challenges, the number of Americans who voted has set a record. This is once again. It proves that democracy is still deeply rooted in the hearts of Americans."
Biden's campaign assistant said that when he learned that he had won, Biden was at home with his family. He will address the country at 8 pm New York time.
Trump refused to acknowledge this result, and immediately after the media announced Biden's victory, he issued a statement saying that the election was "far from over." He was at the Trump National Golf Club in Sterling, Virginia.
Biden's running mate, the 56-year-old California Senator Kamala Harris, became the first black and Indian woman to serve as vice president.
Biden, 77, will become the oldest president-elect in American history. He is also the first challenger to defeat the incumbent president since Bill Clinton defeated George H.W. Bush in 1992.
According to the Associated Press, Biden won 290 electoral votes. Several other television networks have not announced the winners in Arizona or Nevada, but even so, Biden's electoral votes are enough to make him the president.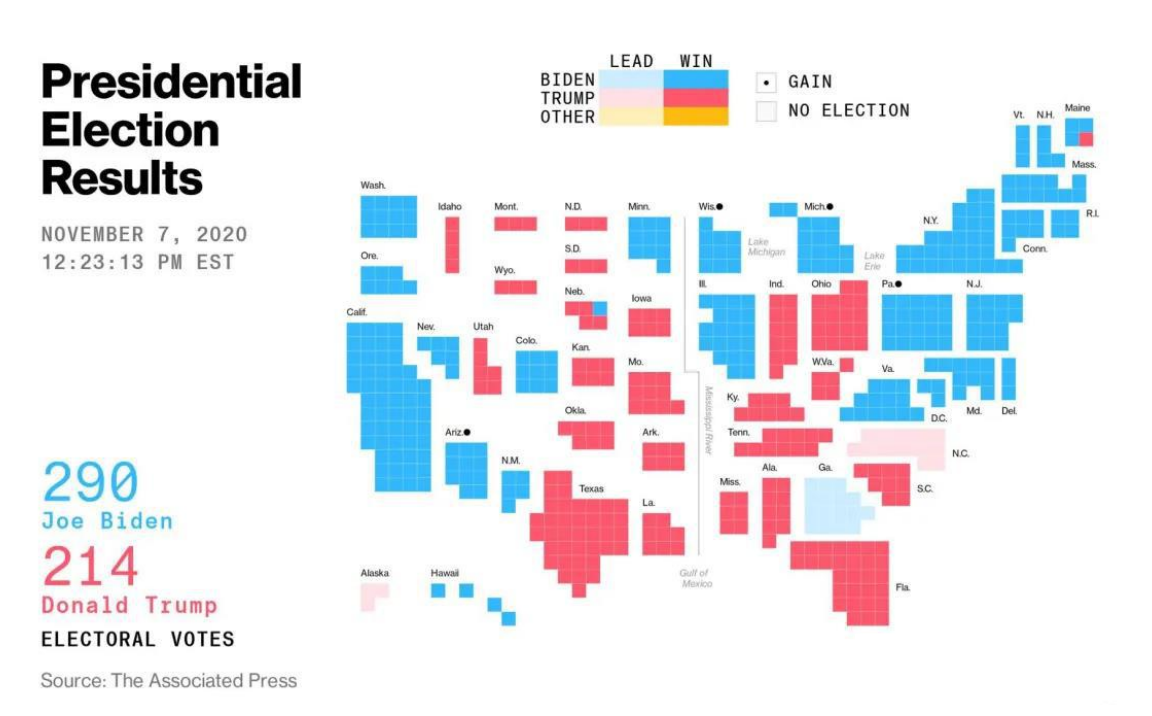 After the announcement of Biden's victory, people spontaneously celebrated in front of the White House, Times Square in New York, and Philadelphia.
Trump's baseless allegations of fraud and the pending control of the Senate will make it more difficult for Biden to achieve national unity.
In January next year, Georgia's two senator seats will have a "run-off election." If the Republican Party can continue to control the Senate, then Biden's tax increases on the wealthy and businesses, as well as environmental energy policies may be hindered in Congress.
As of Saturday morning, Biden's national votes were 4 million higher than Trump's, with a total of nearly 75 million votes. Trump has 71 million votes.
Trump questioned election results
Trump expressed doubts about the entire vote counting process. He claimed that there were widespread violations of the vote count without evidence, and filed legal actions against the vote count in several key states where he fell behind.
So far, Trump has not had a lawsuit that has great influence or proves that the election results can be overturned.
Biden has promised that repairing the hard-hit economy and fighting the epidemic will be his top priority. He proposed a $3.5 trillion plan that relies heavily on the fiscal deficit to create jobs, but this scale is likely to be resisted by the Republican-led Senate.
Biden said that he can repeal some of Trump's most controversial decisions without Congressional approval. Biden plans to rejoin the Paris Climate Agreement and the World Health Organization and reverse Trump's restrictions on environmental regulations. He said he will also end the immigration ban on several Muslim countries and restore the rights of asylum seekers.
Many national leaders congratulated Biden and said they looked forward to cooperating with the new president. German Foreign Minister Heiko Maas said that Biden's victory was an opportunity to establish a new starting point for transatlantic relations.
However, Biden may have to continue to confront Trump, and there is no sign that the current president intends to leave the White House quietly.