Types of Bearings and How They Work
Types of Bearings and How They Work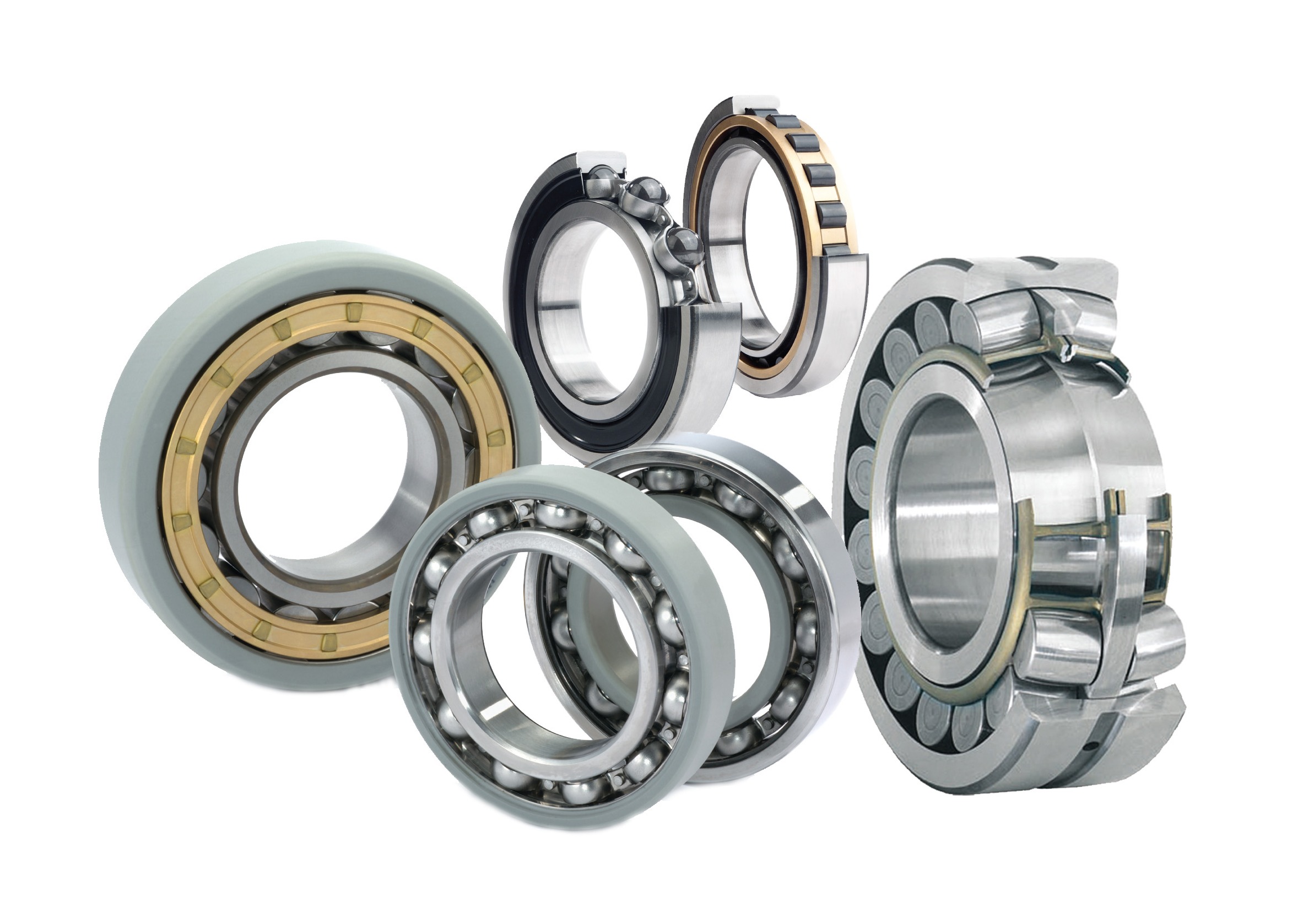 Bearings are fundamental to the machine industry and make up one of the most important aspects of machinery, making understanding them crucial. They are used in all sorts of equipment, but since they operate in the darkness, many consumers who are not familiar with the machine business usually hear the term and wonder, 'What's that?"
In fact, bearings are most commonly used to facilitate rotating or linear movement and to minimize friction between two objects. The ease of moving (rotary or linear) decreases resistance and increases the machine's pace and performance.
What is the Primary Function of Bearings?
The term "bearing" is extracted from the verb "to bear." The bearing is an element that enables one component to support another. The primary function of the bearings is:
To reduce friction
The friction is expected to exist between the spinning shaft and the portion enabling the movement. Bearings are used to reduce friction between moving parts of a machine, allowing better mobility and ensuring that the machine runs smoothly. This also reduces the amount of energy consumed.
To support rotating parts
A significant amount of force is required between the spinning shaft and the portion facilitating the rotation. Bearings have the purpose of avoiding any damage done by this force to the piece that controls the movement and preserving the proper location of the spinning shaft. This role of bearings is what allows us to use our devices over and over again over a more extended time.
What Are the Main Types of Bearings?
There are many types of bearings used in industrial settings based on size, load, and form. The key bearings are:
Friction Bearings
Anti-Friction Bearings
Friction Bearings (Sliding Contact Bearings)
Bearings which run under sliding friction with shaft is called friction bearings or sliding contact bearings. Bush bearing is a type of bearing that falls under this category.
In such bearings, the surface of both the bearing is in interaction with the moving fluid or the shaft, which creates more friction. Such bearings are constructed of cast iron, copper, brass, and white metal with a hollow circular form. Lubricant is used for slow-moving and heavily tilted shaft working. Such bearings are designed to protect the fractured shaft.
Anti-Friction Bearings (Rolling Contact Bearings)
Bearings which run under rolling friction with shaft is called anti-friction bearings or rolling contact bearings. Ball and roller bearings are under this category.
As mentioned above, the primary function of such bearings is to reduce friction in bearings, hence requires less torque and power. Because of this, the motion of the object increases, and the conflict and temperature decreases.
What Are the Different Types of Bearings?
There are many kinds of bearings out there and they serve a wide variety of purposes. Having a complete understanding of machines and how they work can ensure safety and efficiency, bearings included. As Singapore's premium bearing supplier, we want to make sure you know the types of bearings and what their uses are.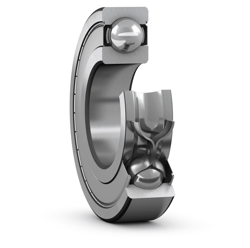 Deep groove ball bearings
1. Ball Bearings
Ball bearings are probably what come to mind when you think of bearings. The most common type of bearings, it can be found in a vast range of items and applications. Consisting of two races separated by small metal balls, ball bearings are meant to handle heavy weights. The objective of the ball bearing is to reduce the axial friction and facilitate radial and axial loads. This is achieved by using at least two races to hold the balls and distribute the loads through the rollers.
Ball bearings can be sealed or shielded. Ball bearings can come in many shapes and sizes, making them the top choice for precision.
There are different types of ball bearings, such as
Deep groove ball bearings
Angular contact ball bearings
Four-point contact ball bearings
Self-aligning ball bearings
Thrust ball bearings
Insert bearings
Features:
Dimension relatively small
No scraping required to fit a shaft
Application:
Ball bearings are commonly used in limited load applications. They can be found in all vehicles, where they are mainly used in sections such as navigation, engine, rear axle, and driveshaft. They are also used in other components such as turbine engines, gearboxes, conveyor belts and used for small load objects such as hard drives to inline skates designed to accommodate both bending stresses loads. For industrial applications, they are employed in the food and beverage, waste-water, mining, pulp and paper, and marine industries.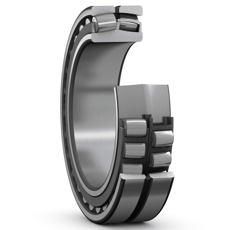 Spherical Roller Bearings
2. Roller Bearings
Roller bearings consist of two races with small rolling components in the middle, allowing the bearing to spin. They are used to lower the friction rates between moving parts and carry a higher load capacity compared to ball bearings. While most roller bearings cannot handle thrust load, tapered roller bearings are designed to handle high thrust and radial loads.
It is important to keep in mind that roller bearings have a high load-carrying capacity and can take on large axial loads.
There are different types of roller bearings, such as
Cylindrical roller bearings
Spherical roller bearings
Needle roller bearings
Taper roller bearings
Features:
Low starting and running friction except at very high speeds
Ability to withstand momentary shock loads
Application:
They are used for high loads or heavy objects and are mostly found in automobile axles.Roller bearings can bear higher loads than standard ball bearings, so their applications are usually restricted to low-speed service. They are employed in everything from turbine engines to skateboard wheels to aerospace applications, not to forget the medical equipment and home appliances.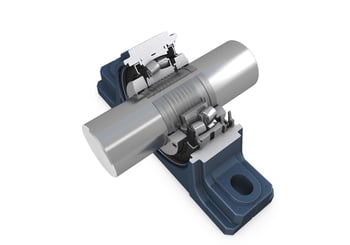 Mounting Bearing and Housing
3. Mounted Bearings
Mounted bearings consist of bearings placed into a housing compartment, made of metal, that is either thread-on or mounted. They can support rotating parts or separate rotating parts with stationary one and typically used when a machine has an exposed shaft. They are meant to be bolted-on and are designed for easy placement. Mounted bearings also allow the placement compartment to be adjusted, allowing many types of bearings are accessible in assembled modules, removing the need to pick and install multiple components.
Mounting bearings are able to reduce issues such as compressive force, bending of the shaft, and oscillating points.
There are different types of mounted bearings, such as
Pillow block (Plummer block)
Flanged cartridge
Take-up units
Features:
Corrosion and moisture resistant
Self-lubricating and maintenance-free
Application:
Mounting bearings are primarily used in conveyors for bottling applications. Used for low-speed or mid-speed machines , they can be found in belt loaders, carousels, and stackers in warehouse and distribution centers for material handling, as well as in food-grade environments.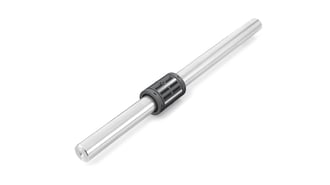 Linear ball bearing and shaft
4. Linear Bearings
Linear bearings consist of ball or roller bearings placed into a housing compartment. They are spinning-element and hydrodynamic-film machines that minimize friction in moving systems where motion works in a straight line. As the word "linear" suggests, they differ from circular bearings where the action is circular. Linear bearings are used to support the linear movements of a machine, enabling users to place them into accurate positions.
There are different types of mounted bearings, such as
Linear ball bearings
Linear plain bearings
Features:
Requires little attention
Easy replacement
Flexible
Application:
These bearings are used in a wide variety of applications such as clinical and laboratory machines, sliding doors, 3D printers, and in several automation settings where friction and direct motion reduction are required.