Promote the upgrade of the supply chain Sinochem and Ali strategic cooperation to build a total of 15 Hema Village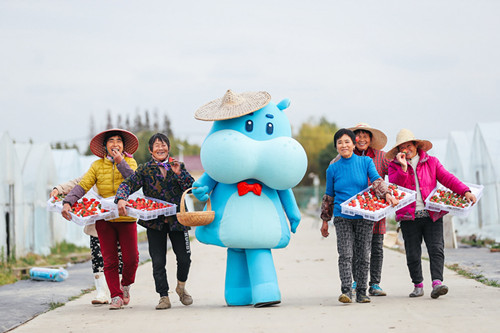 In 2019, Sinochem Agriculture and Hema used to plant strawberries in the field, changing the long-standing difficulties and pain points of the consumer and upstream agriculture

After signing a strategic agreement with the Ministry of Agriculture and Rural Affairs, Alibaba made another major move in digital agriculture.
The reporter was informed that in recent days Ali and Sinochem have joined forces again and the two sides will carry out strategic cooperation based on digital agriculture. Alibaba Digital Agriculture Division and Sinochem Agriculture MAP are responsible for the cooperation. The cooperation contents include: building a digital agriculture base, order agriculture, direct mining base, agricultural products brand, etc. Hou Yi, President of Alibaba's Digital Agriculture Division, said that Ali's goal for digital agriculture is that after full-link digitalization, it will truly realize that high-quality agricultural products can be sold at a good price and people can eat good things.
According to the agreement, through the establishment of MAPbeside's overall quality control brand in Sinochem Agriculture, to achieve the full quality control traceability of high-quality agricultural products under the order agriculture model, to provide consumers with full quality traceability management from the field to the tip of the tongue.
Combining Ali's "origin warehouse + warehouse warehouse" digital agricultural product circulation network, both parties will enhance the scientific cultivation management level, and promote the modern agricultural industry chain and supply chain optimization and upgrade.
The joint construction of a digital agricultural base mentioned in the agreement between the two parties is also considered by the outside world as a national name to enter the construction of Hema Village. Hema Village, the representative of Alibaba's digital agricultural base, currently has more than 50 nationwide. Hema Village refers to the village that carries out agricultural production for Hema according to orders. After accessing new retail, the production, supply and marketing of agricultural products have been fully digitized. After proposed to build a batch of Hema villages in Shanghai in April, Sichuan Danba proposed to upgrade the existing Hema village and build Hema county in May.
Zhu Qizhen, a professor at China Agricultural University, believes that the future of Chinese agriculture is digital agriculture, and Hema Village is a good model. The value of Hema Village is not just in one village, but in the entire agricultural product digitalization chain.
It is reported that in the construction of Hema Village, under the background of "new retail, new agriculture", the two parties will carry out in-depth cooperation around rice, apple, citrus, grape, strawberry, kiwi and other category products, and jointly build 10~ in the next 3 years 15 digital agricultural demonstration bases.
This is a further upgrade of the cooperation between the two sides. In 2019, the two parties cooperated to grow strawberries, creating a new ecology combining new retail and new agriculture.
In June 2019, when Sinochem Agriculture MAP and Hema cooperated to grow strawberries, some bases were located in Hema Village. Based on data analysis, Hema put forward quality and quantity requirements upstream. Farmers only need to concentrate on planting and production, and do not have to worry about the "how to plant and sell to whom" question. At the same time, Sinochem Agriculture is fully empowered from agricultural resources, planting technology to a complete set of supply chain solutions.